Outfit details: T-shirt: Shopcoolbyassociation – Girls like champagne ($48 CAD – made in Montreal)// Skirt: Dynamite Faux Leather Mini Skirt($32.95 CAD) // Coat: Dynamite Wool Material Waterfall Coat with belt ($129.95 CAD) // Boots: Burlington Coat Factory knee-high suede boots ($29.99 USD) // Bag: Chanel 10″ Shoulder Bag ($4.2K USD)
You don't need to overspend to look like a million dollars! Give that wallet a break and let me fill you in on a few secrets about how to make an outfit look expensive without overspending. Afterall, you should have fun with fashion and price point shouldn't be an issue. Quality is important and you should definitely invest in some 'forever pieces', closet staples that will never go out of style. But when it comes to fashion & trends, they don't always stick, so spending a lot of money on them is not worth it. Here is how you can make your outfit look expensive: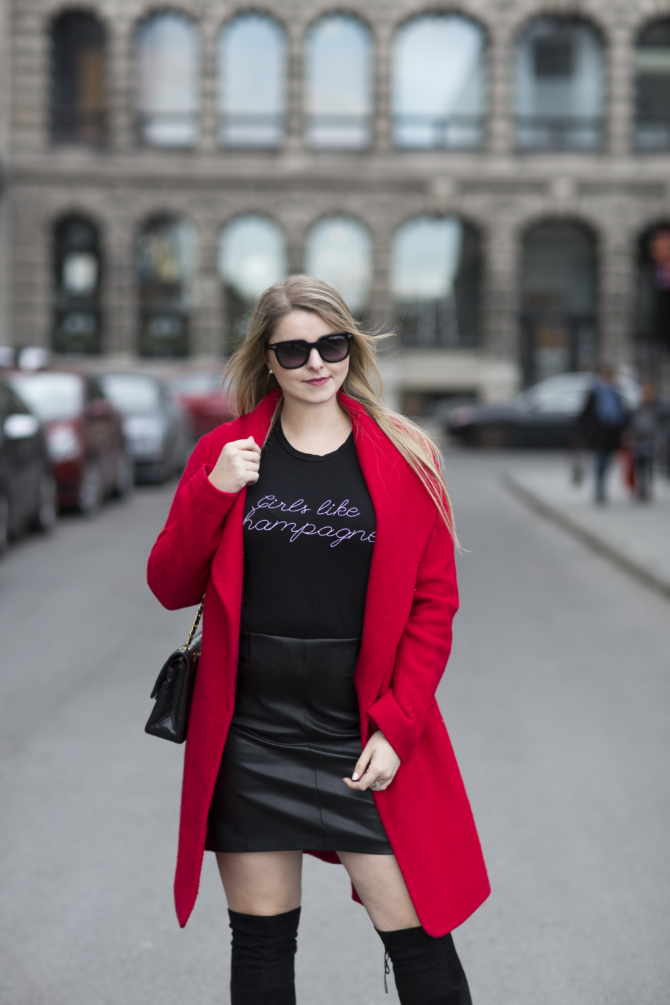 1-Mix & match some inexpensive items with some big tickets ones and the entire outfit will look expensive. Notice the cost of my outfit in these pictures. The entire outfit is composed of inexpensive pieces (the total is under $250CAD), except for one very expensive item: a chanel hangbag. Which brings me to point #2…
2-Accessories – this is where you want to make some investments. A nice bag or a nice shoe will do the trick! Personally, I prefer to invest in a nice bag b/c I tend to ruin my shoes. I don't know if I simply can't walk like a human being, but every pair of shoes gets scrapes & cuts and gets ruined at the end of the season. But if you know how to walk normally, you might want to invest in shoes :P
3- Choose wisely: Even though I said it's cool to go with inexpensive pieces, you should still pay attention to the materials and make sure they feel & look good, and most importantly that they fit well. There is no point wasting a good $20 on a cheap shirt that will come apart at the seams after one wear.
4-Tailor: your best friend. Find one & cherish him/her! If something is too big or too small but can be altered, do it! Having clothes that fit perfectly definitely make them look a lot more expensive.
5- Confidence: Clothes have the power to give us more confidence, so wear your picks with pride. When you're confident, you look much more elevated!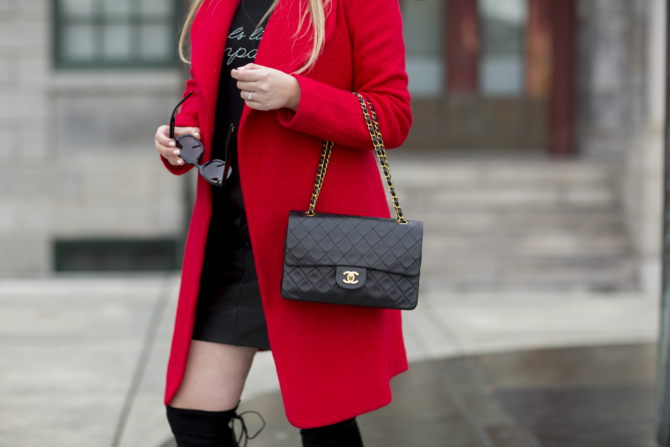 Kisses,
WCX