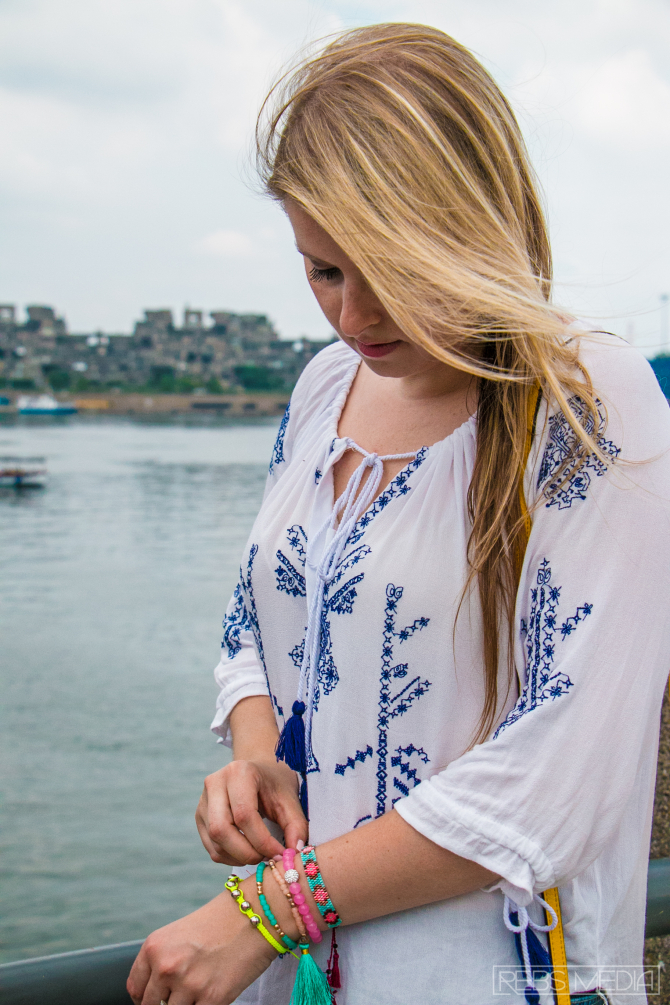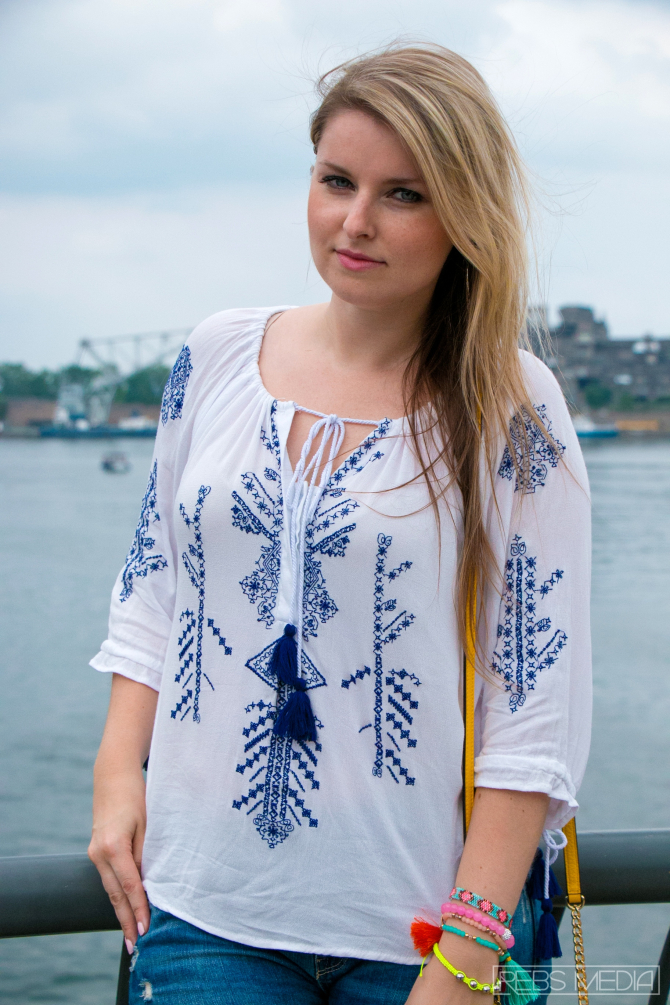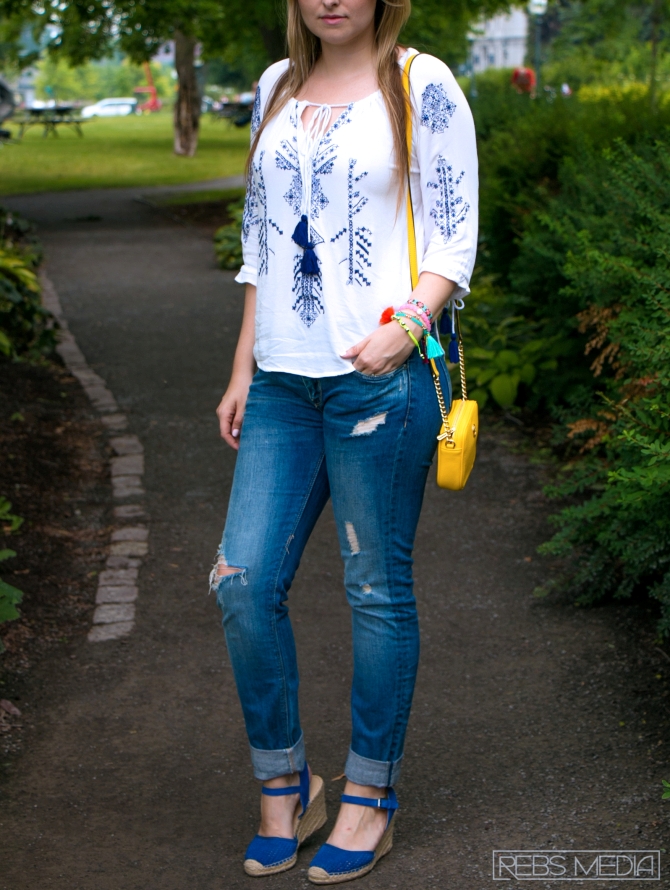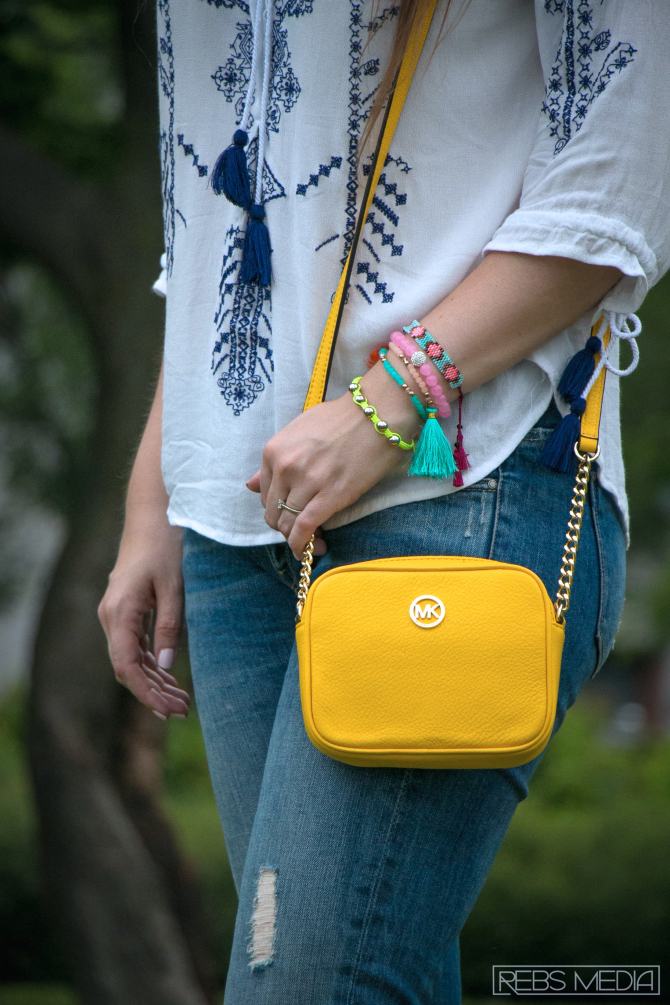 Photo credit: RebsMedia
Outfit details: Zara distressed boyfriend jeans (tons of boyfriends jeans to choose from at Shopbop – HERE) // Dresslily embroidered boho blouse // Michael Kors yellow cross body bag (also LOVE this Marc by Marc Jacobs sophisticato disc bow camera bag from Shopbop)// DSW electric blue wedges (similar: Andre Assous 'Hilda' Espadrille Wedge Sandal – Nordstrom
) // Elle Dugre Light pink jade sparkle bracelet // Francesca's tribal bracelet // Garage yellow neon bracelet // Tassel bracelet from my trip to Dominican Republic last year :)
The week of vacay passed wayyyy to fast and I was wayyy to busy to rest! But, I must  say that I like to keep busy, I'm not the type to be able to lay in front of the TV all day, otherwise I feel like I wasted a day! I did take 3 days to relax by going to the beach with my bf at the beginning of the week to recharge my battery b/c the rest of the week was filled with fashion shows at the Festival Mode & Design in Montreal, photoshoots, closet sales, etc! The festival was great – my favorite shows were Place Ville Marie (they never disappoint with their fashion shows – it was spectacular!), Dynamite (stunning Fall collection – even though I love summer, I cant wait for Fall!!!), Guess/Marciano (beautiful clothes & best music!) & Le Chateau (great collection this season & the puppy at the end of the show was the perfect touch!).
This post from my collab with Rebecca Vilsan from RebsMedia was long overdue! I love how she focused on every detail of my outfit in her shots :) This stunning boho embroidered blouse is so beautiful & comfy! When it arrived, at 1st I was scared that it would be too short, but then I realized that it's easily adjustable with the tassel straps, so the fit is actually great! I love the tassels details and the blue compliments my eyes. Very comfy shirt for everyday wear! I paired it here with distressed boyfriend jeans, but it could so easily go with shorts too. For a pop of color, I added the Michael Kors cross body bag, which I got at the outlets for like $30 – great buy! I also decided to add some colorful interest to this outfit with these bracelets I love – I have been addicted to stacking bracelets lately!!! The more the better :P lol
Happy Monday guys!!!
Kisses,
WCX