In today's world, 1st impressions are everything, so you better put your best foot forward! And it's not about doing it for others, it's about doing it for yourself, trust me! When you are wearing beautiful clothes & well applied makeup, you naturally feel more confident and that confidence shines through & opens up doors for you – be it landing the dream job or the perfect man! It's so much more than clothes!
For as long as I can remember, I loved clothes and had an eye for them. I knew one day I wanted to become a personal shopper & stylist, and I finally decided to get this show on the road! I am overly ecstatic to share my very 1st makeover & assisted shopping trip I did for a friend of mine – Magda. She is a sweetheart and she's completely selfless, always putting others 1st, sometimes at her own cost. I wanted to make her a priority for one day and make her see that shopping is not so scary, that taking care of herself is not that time consuming & that she can develop the eye for clothes and look fabulous, yet keep the wallet in check! The key is to know the right places to shop! You also need to learn what works for your body type & be adventurous to try new things! So we started off with hair & makeup. She has perfect skin, so it was quick & easy! Then, we went shopping! She has given me a mandate of finding her a dress & a pair of shoes for a wedding she will be attending a week from now (talk about pressure…lol) and maybe if there is time, find an outfit for everyday. Her budget for dress & shoes = $300. Let's see how we did :)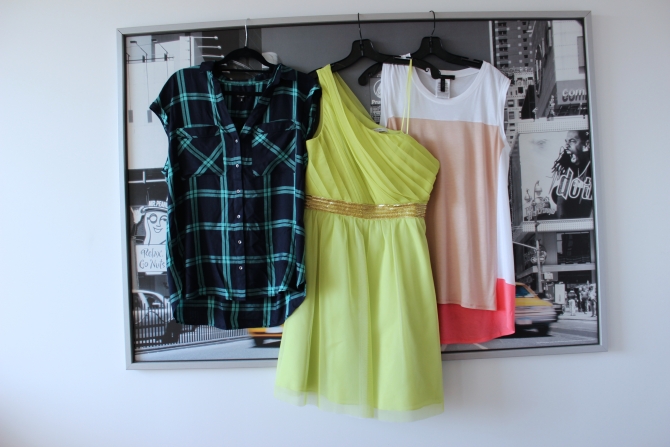 Details: Dynamite plaid blouse // BCBG Maxazria yellow dress // BCBG Maxazria colorblock t-shirt
We started off at BCBG Maxazria outlet! I had pre-shopped some dresses for her, but I knew that the yellow empire dress was going to be the winner! It would bring out her blue eyes & look stunning with her brownish/redish hair & olive skin tone! Result = perfect fit! Cost: $59!!! Less thank 1/4th of her budget!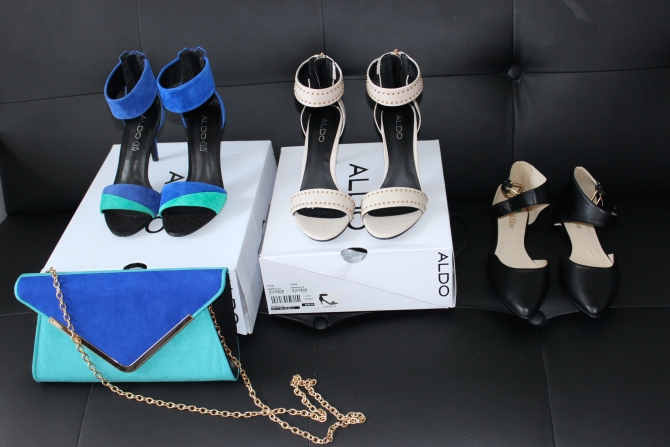 Details: Aldo shoes electric blue ankle strap sandals // Aldo shoes electric blue clutch // Aldo shoes beige ankle strap sandals // Winners flat black ballerinas
Then, we needed shoes, so we headed to the Aldo Shoes outlet! We found these stunning beige sandals for $60! I must admit that I bought them too, since I needed shoes for a wedding as well, and these were fabulous & soooo comfortable! So, total spent for dress & shoes = $119, less than half of her budget! Plus, we were done within an hour and a half, and we had scheduled 4 hours! So, we decided to shop the outfit for everyday! We started by the shoes, lol – we found these stunning electric blue ankle strap shoes for $30 & clutch that went with it for $20! Then, as soon as we got to Winners I spotted the black ballerinas & they were a perfect fit for $3o! We then headed to Dynamite where we picked up 2 pairs of skinny jeans ($50 each) & a plaid shirt ($20)! In total we spent around $350! :) We got her a nice wardrobe for the budget she had instead of just dress & shoes! After which we headed to eat a very well deserved lunch & ended with getting her eyebrows done!
And now the best part…..the BEFORE & AFTER looks…..DRUMROLL please……
BEFORE: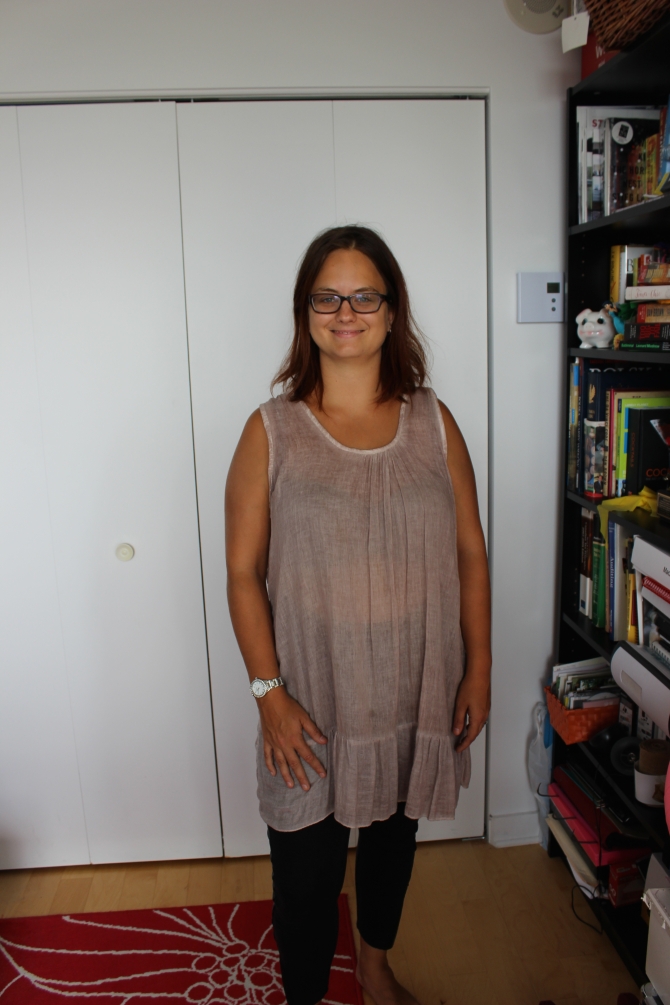 AFTER:
WOWZA! Look at her blue eyes, waist, and long legs! She looks AH-mazing doesn't she??? The best part was seeing her so happy, look how she's smiling!!! That's what makes me love this job – showing women how beautiful they truly are & making them happy!
I was a little nervous to tell you the truth since it was my 1st makeover & the deadlines were tight but I am really happy with how it turned out.
What do you guys think???
Cheers to many more!
Kisses,
WCX