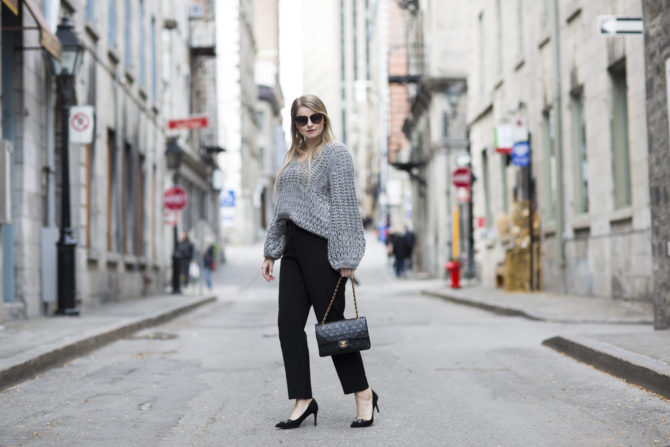 It's officially 'sweater weather', but why does it only need to get cozy at the chalet over the weekend or at home on the couch? Why not be nice and toasty at work? It's always freezing at the office, so that is THE place you actually want to keep warm. Sure, you can wear a blazer, but between me and you, I still feel cold wearing one of those. Plus, its not always easy to wear a blazer under a coat, then you have to bring the blazer with you, and it just makes a lot of things to carry. So, you're proably wondering about how to wear a sweater to work. Don't worry, you won't look like you just rolled out of bed! In fact, you can look polished & very much put together in a sweater. The current trend is all about chucky sweaters, here is how to quickly pull off the office look:
1- Pick a classic pair of trouser or a pencil skirt. You could also pick a pleated skirt if your office is more fashion forward! A classic piece will counter the chunkiness of the sweater and make the look work.
2- Tuck in the sweater at the front of the pants or skirt. It's a little trick, but honestly, everything tucked in looks better (in my opinion at least, what do you think?)
3- Slip on a cool heel! Pumps will always elevate an outfit, so it's the perfect accessory. Well that and a kick ass bag like a Chanel classic! Voila – that's how to wear a sweater to work. Enjoy looking like a milion dollaz chix & stay warm!
Outfit details: California Moonrise Chunky Sweater// Reitmans Willow & Thread Paper Bag Waist Pants //Le Chateau Brooch Embellished Pointy Toe Pump// Chanel 10″ Shoulder Bag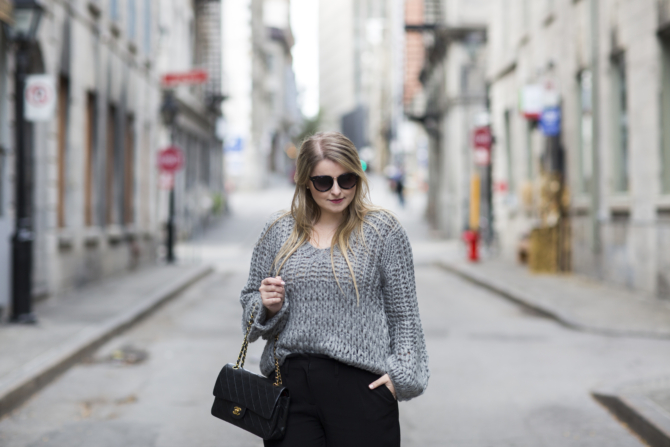 Kisses,
WCX